Finding a bar cart for your space is a great way to add elegance and edginess. Bar carts serve both practicality and style. There are several bar carts to choose from on the market. One of our favorite options is a mahogany bar. 
Mahogany in itself is a traditional wood that makes a huge impact. A mahogany bar adds a vintage charm that will transport you to a hidden speakeasy. There are many different mahogany bar cabinets available. This article will provide suggestions for buying one of these unique bars. 
Best Mahogany Bar Cabinets
Before discussing our favorite mahogany bars, we want to provide some insight. We will share the benefits of this wood and some different types of bar cabinets available, such as a Casablanca bar. You'll be ready to find the perfect bar for you once you're done reading this article! 
Benefits of Mahogany
There are many reasons people opt for mahogany for their furniture pieces. Some reasons you may choose this wood for your bar cart include:
Stable. Natural wood can change shape over time. It's normal to see some volume shrinkage as the wood dries up. This can change the overall look of the furniture. Mahogany is extremely stable. It is less likely to shrink, swell, or warp. 

Resistant. We all know that wood has some downfalls due to natural wear and tear. As it ages, wood can begin to rot, mold, or decay - especially when it's outside. Mahogany is more resistant to these factors. 

Durable. A bar cabinet is an investment that you will want to last! To ensure this, you'll want to choose durable wood. Thankfully, mahogany has impressive longevity. 

Appearance. If you want that old school, traditional look, then mahogany is the way to go. It adds an eclectic charm to any room. 
Types of Bar Cabinets
If you're sold on a mahogany bar, it's time to determine the best style. There are different bar cart designs for you to choose from. We'll discuss some top options for you. Once we finish discussing types of bar cabinets, we will share some of our favorite mahogany bars. 
1. Corner Bar
If you want a bar that can be easily tucked away in the corner, then a corner bar may be best for you. It takes up less square footage and makes use of otherwise unusable space. Corner bars are great for mimicking an actual speakeasy. You can have all of your items in your cabinet bar hidden away. This will minimize the look of clutter. 
2. Expandable
This is a great option if you want a bar that can easily close up for storage. Some expandable bars will even include foldable tables. This will give you additional room for seating space or counter space for preparing drinks and hosting guests. An expandable bar is also good if you have a smaller home. This way, you can bring out the bar when it is convenient and tuck it away when it isn't in use. 
3. Trunk 
A bar trunk is an incredible way to incorporate a vintage vibe into your space. If you appreciate adding character to your home, this is an excellent way to do it. Bar trunks can be easily folded up for portability. They can come in standup, vertical bars, or lay-down horizontal bars. 
4. Mini 
Opt for a minibar if you want a bar experience but want to minimize the space it takes up. These bars are smaller than other options on the market. However, they make the best use of their small space! Mini bars can still have many features that regular bars do.
Top Mahogany Bars
If you're ready to commit to a mahogany bar, here are some of our favorites on the market right now. 
1. August Grove: Gridley Bar with Wine Storage
The Gridley Bar by August Grove has it all. It has shelving, a cabinet, drawers, wine racks, and a countertop. This bar is available in two great colors. It is made of solid mahogany and has an under-top pull-out tray for extra room to prepare drinks. It has a beautiful old-world design with a unique metal foot rail to give you the feeling of an authentic bar. 
At 266 pounds, this bar won't be easily moved. Find a place where it works best for your needs and set it up there. 
2. August Grove: Torrington Shabby Elegance Bar with Wine Storage
If you want a mini bar that is made out of solid wood, this is it. It features a beautiful distressed finish that will look beautiful in any home. This bar is 26.5" long and 12" deep. It can be easily tucked away. You can easily store up to eight bottles of wine, plates, and smaller items in the drawer provided. The drawer opens with a rustic yet stylish hoop-style drawer pull.  
3. Design Toscano: Tewkesbury Inn Bar with Wine Storage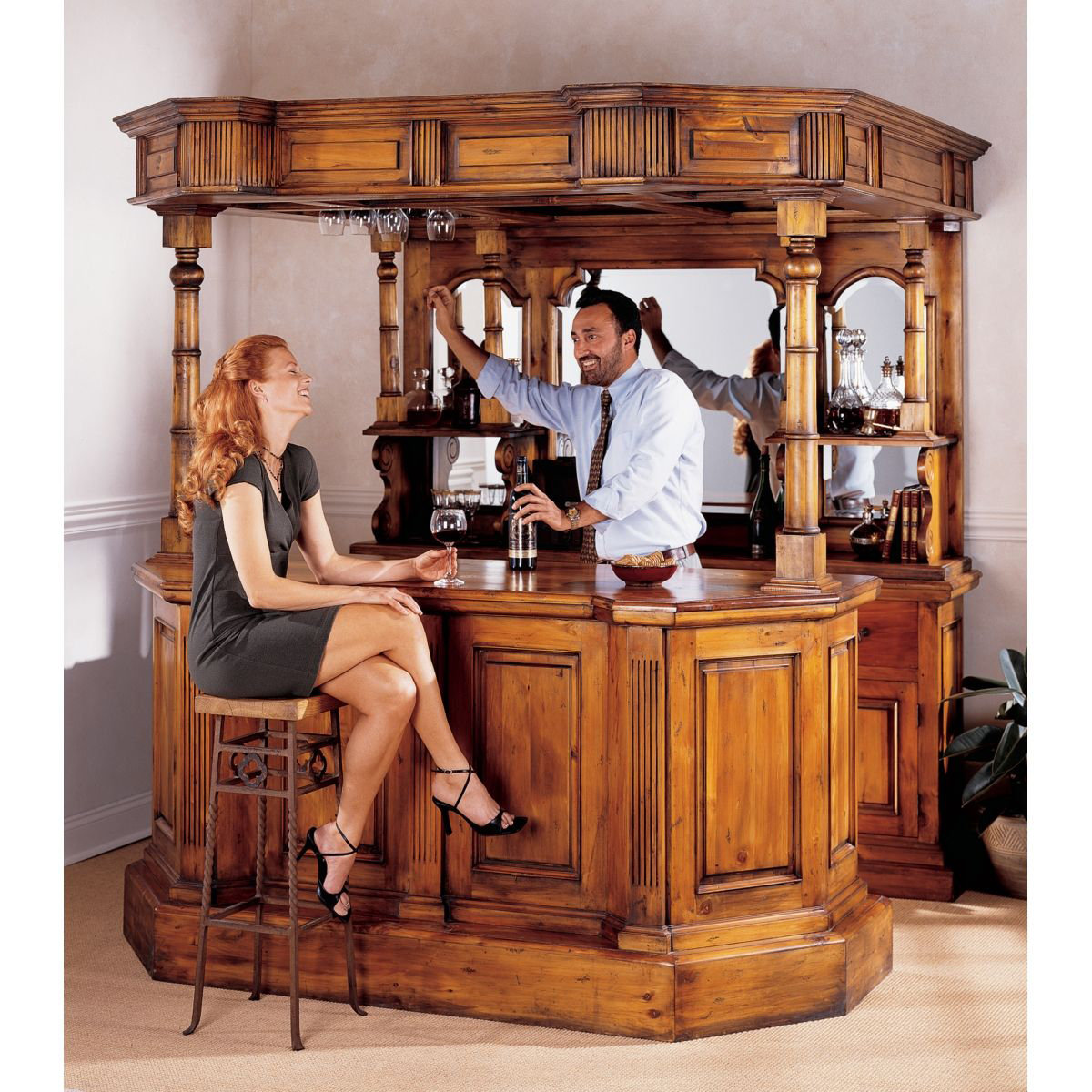 This bar is an excellent choice if you want to splurge for an authentic bar experience in your home. For just under $13,000, this mahogany bar can be yours. It even features a unique canopy that will make you feel enclosed in an old-style pub. There are eight drawers, and four cabinets with brass pull. This offers room to store 40 bottles of your favorite wine! On the Tewkesbury Inn Bar, you'll find four shelves and a row of wine holders. 
This bar is made out of solid mahogany and has six supporting pillars. Add some seating around the bar for the full experience. You'll feel like you're actually in a pub. 
This bar by Design Toscana is an investment. Make sure that you have ample room to set this up in your home. 
4. Theodore Alexander: Mannix Bar Cabinet
This beautiful all-enclosed bar cabinet is available in a grey or black finish. It features 1920s charm and comes completely assembled for your convenience. You can store glasses and liquor inside the cabinets. 
You'll feel as though you were transported back to the prohibition with the beautiful finishes and unique design. The gold accents add a touch of elegance to the overall appearance. 
5. Williston Forge: Arterbury Bar Cabinet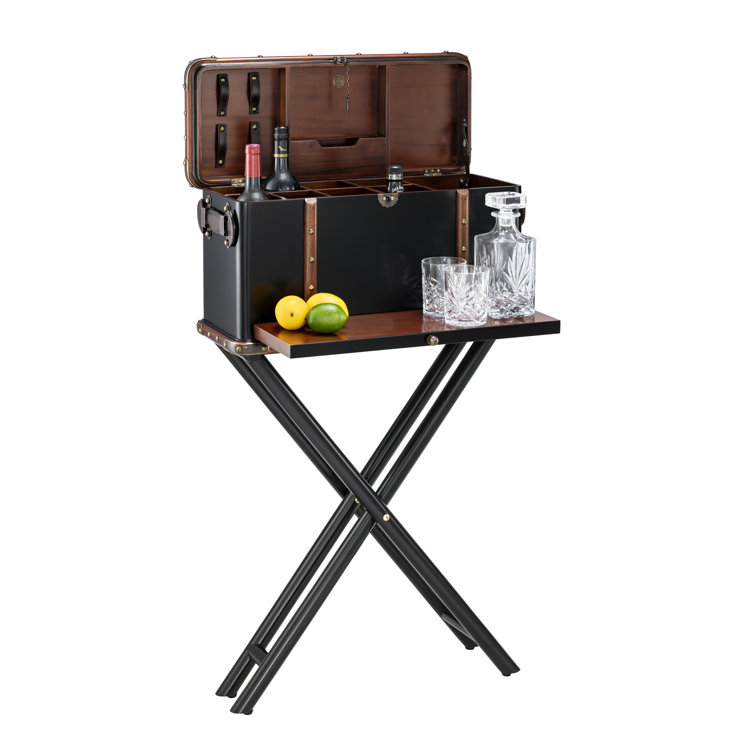 This bar cabinet by Williston Forge also has that incredible trunk appearance that has come into focus over the past few years. For under $1000, this is definitely a statement piece. It features a Victorian style and has foldable legs for your convenience. It comes assembled and is made out of solid mahogany. This bar cabinet is small and can be transported with you to your next party. 
6. Astoria Grand: Bellandra Floor Wine Cabinet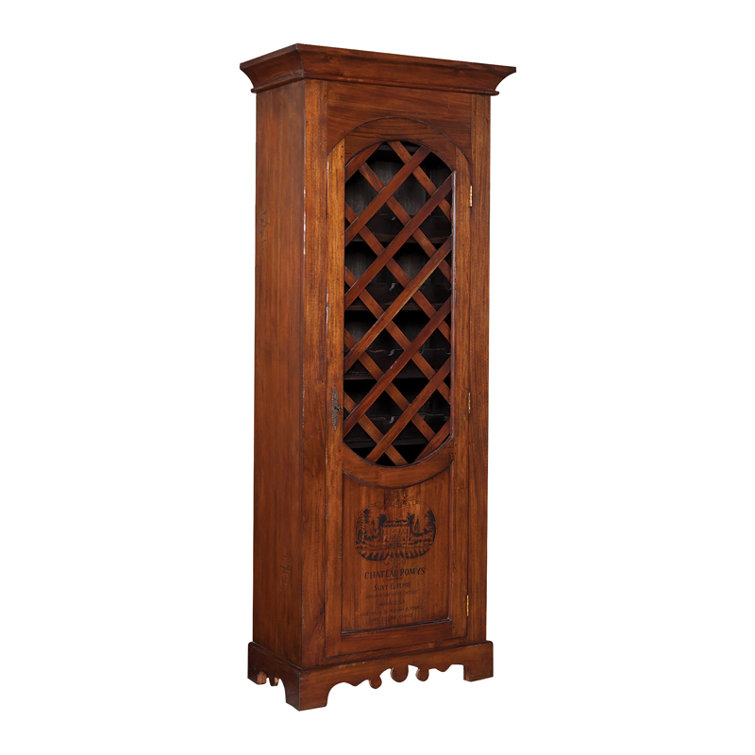 This cabinet is for wine lovers! It is specifically designed to hold your wine collection. It features a deep forest stain to add character and dimension. There are hand-painted graphics that will make a statement in your home. 
This bar cabinet is a vertical cabinet that stands 84 inches tall. There is a peek-a-boo feature looking through the door to see your wine collection on display. 
7. Bungalow Rose: Jemaa Bar Cabinet
This bar is for you if you value intricate detail. For just under $1300, this bar cabinet features a drawer and several shelves to store your wine collection. The outside has an incredible floral pattern and flower-shaped knobs on the doors. The bar cabinet is white-washed with a beige finish. It will look incredible in any modern or traditional home. 
This bar is 36" tall and 32" long. It won't be too overwhelming but will provide the storage you need. It is a good fit for most spaces. 
8. Maitland-Smith: Dollhouse Bar Cabinet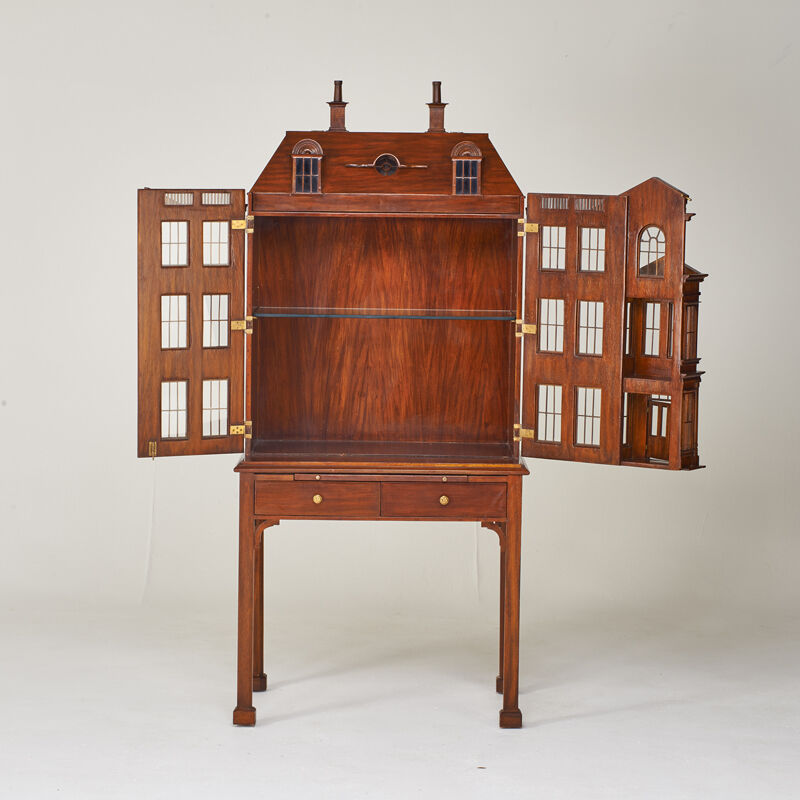 If you want a super unique mahogany bar, this Dollhouse Bar Cabinet is it! It is made of Georgian mahogany and features beautiful Paris brass accents. With drawers and adjustable shelves included, you'll be able to make this suit your needs. There is a pull-out drawer for preparing cocktails. 
This bar by Maitland-Smith truly embodies a dollhouse. It is a one-of-a-kind piece that is well worth the price tag. 
9. Authentic Models: Casablanca Bar
One of our favorite bars on this list is the Casablanca Bar. It brings vintage speakeasy flare to the comfort of your home. There are three game boards to enjoy and a glass top where you can display photos. There is ample space to store wine glasses, liquor bottles, and cups. It is effortless to store away or roll into the party so that you can entertain guests. 
This bar is a beautiful black and honey finish. For under $2500, this gorgeous bar would make a great addition to any home. 
Conclusion
Adding a bar cart or bar cabinet to your home is an excellent idea! It serves as a place for storage and adds visual interest to guests. Adding a bar cart with wheels allows you to easily move the cabinet around to entertain at your next party. This list shares some of our favorite mahogany bars on the market. Whether you want a mini, trunk, or corner bar, this list should help you as you begin to shop.