Having a home bar adds character and practicality to your space. Bar carts had taken interior design by storm. They became extremely popular. You could find bar carts in homes all over the world. However, there has been a shift in bar designs over the past few years. Now bar trunks are trending. They offer a unique vibe and opulent style to any home.
Bar Trunk Guide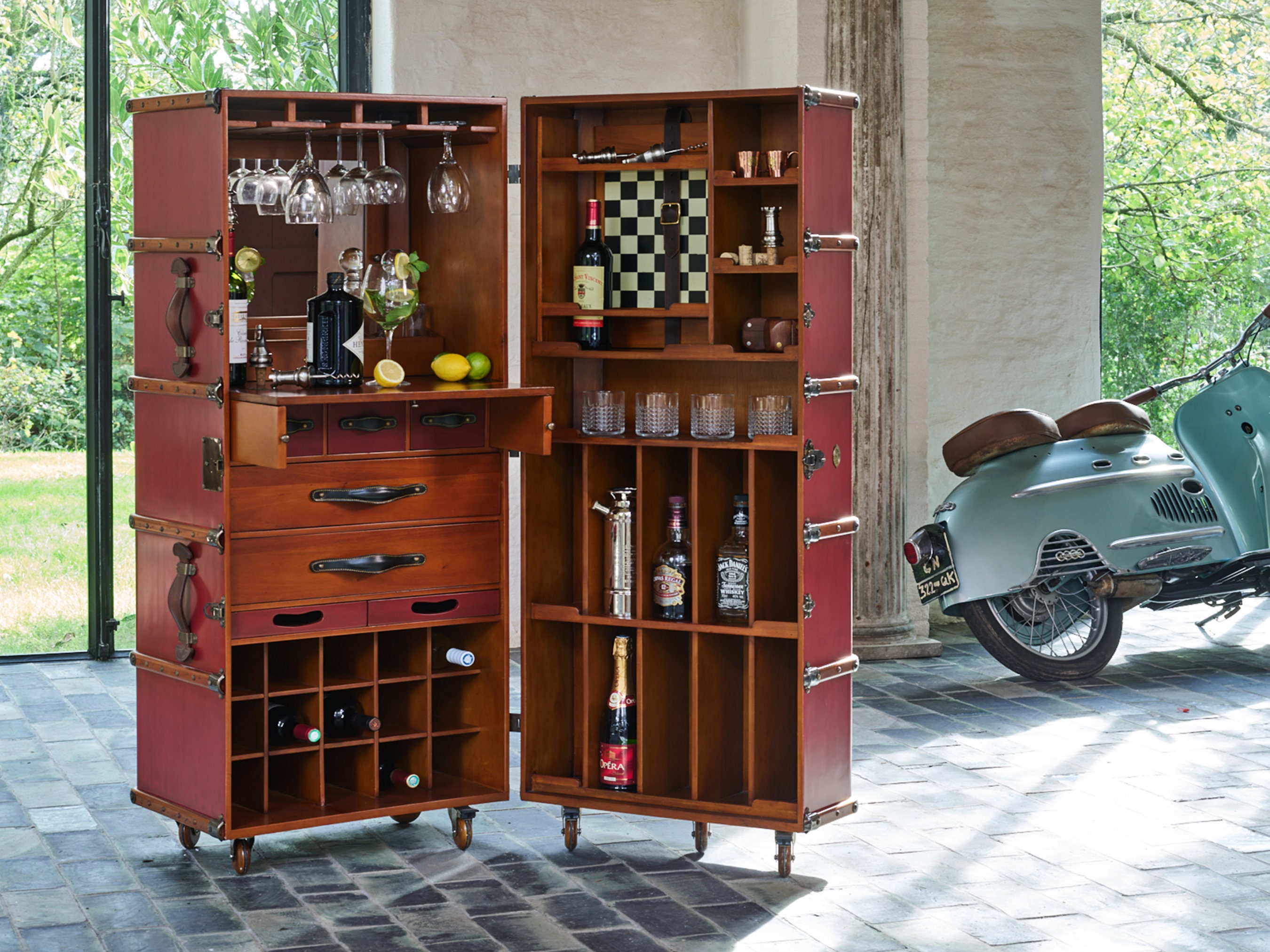 If you've wanted to add a bar to your home and are interested in a bar trunk, we can help! This article will discuss bar trunks, their benefits, and designs you may like.
What Is a Bar Trunk?
Bar trunks are unique yet robust. They often can store quite a bit. Furthermore, they add a vintage feel to your space. Bar trunk cabinets complement cottagecore, industrial, and shabby-chic homes. Opposed to your traditional bar cart, bar trunks typically offer a more "enclosed" space. If you prefer your area looking extremely tidy, then this might be for you. 
Bar trunks can come in many different styles. This is an excellent option if you want a statement piece that will be a great conversation starter. You can also find additional features, such as shelving, cupboards, and wine racks.
Things to Consider
It will help if you put some thought into any furniture purchase. A trunk bar cabinet is no different. The best way to invest is to consider all angles. Thinking through your purchase will make sure you find the perfect option. 
When buying a bar trunk, there are three things you want to consider:
1. Storage
Bar carts of all types can come with various options. Some people like bar carts that just simply have 1-2 shelves to display decor. However, other people want wine racks, glass holders, and more. Knowing exactly what you need will help you narrow down your purchase. 
Some bar trunks have drawers for smaller storage (such as knives, stirring spoons, and more). This will be great if you want to store small items safely. You may also benefit from trunks that have wine glass holders. Wine glass holders will keep your fragile items safely on display. 
2. Size
Bar trunks can come in all different sizes. Some are standing, whereas others are horizontal on the floor. The horizontal ones will take up more space typically. However, they do give more of a "trunk" feeling. 
To decide the size you want:
Measure the space in your room.

Keep the trunk away from any large pieces of furniture, so the area doesn't look too cluttered.

When measuring, ensure you have enough room for a bar cart that suits your needs.
Going too small may be impractical. 
3. Portability and Weight
Traditional bar carts could be found on wheels. This made it an excellent option for portability. You could wheel the bar cart to entertain guests. Knowing whether you prioritize portability is essential. 
Extremely heavy bar trunks should remain in one space. Some bar trunks may not have wheels, limiting how much you can move them. If you want the experience of a traditional bar cart, then you may want a lighter option with wheels. 
Benefits of Having a Bar Trunk
There are many benefits of going with a bar trunk if you're between different bar cart styles. Some of the top benefits include:
Vintage style. If you love adding vintage pieces to your home, this is an excellent way to do it. A steamer trunk bar cabinet brings the look of vintage luggage into your space. It will add a blast of character to your decor. 

Conversation piece. Having unique pieces in your home is a must! A bar trunk achieves just that. It will allow guests to strike up a conversation. Many bar trunks look to be from another era. They are a beautiful addition to any home. 

Wide price range. When it comes to purchasing a bar trunk, you can find them from any price point. If you want to minimize spending, you can likely find an affordable one. Furthermore, there are a lot of high-end pieces on the market if you want to splurge. 

All-in-one design. Opposed to having a multi-piece built-in bar, a bar trunk features an all-in-one design. This can be perfect for people who don't love the interior design or want to keep things simple. It will limit the number of decisions you have to make while you shop. 

Move with the house. Let's face it: it's unlikely you'll live in the same place forever. So, spending substantial dollars on a built-in bar may not benefit you long term. Thankfully a bar trunk can travel with you. When you move, you can bring it with you to a new space. 

Non-committal. Trends change and so does furniture. Committing to anything long-term can be difficult. A built-in bar will be a pricy investment. Cupboard styles and colors can change. Thankfully, you don't have to commit to a bar trunk.
Styles to Consider
Bar trunks come in all different kinds of styles. Each is unique. You can find the perfect option for your home. Now that you know what a bar trunk is and what to consider, we will share some styles we love. 
1. Farmhouse Style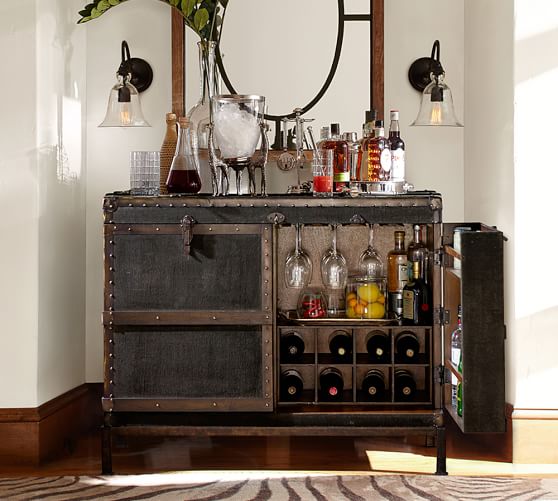 Farmhouse decor has gotten very popular over the past few years. It adds a rustic feeling to a home without being too vintage. Farmhouse homes typically have accents with different types of woods. Modern farmhouse homes may have white-washed finishes to add to the space. 
A farmhouse-style bar trunk may be a beautiful white-washed wood. You may find leather accents, such as handles, and a few metal touches on it. 
2. Steamer Trunk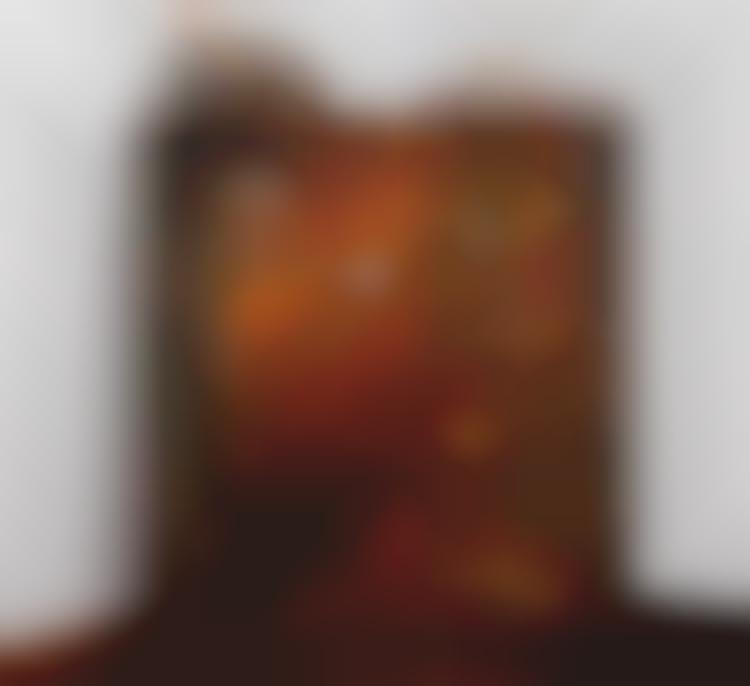 Have you ever seen an old school wooden suitcase? There was a time that these were all the rage! They are often darker in tone and have metal features. If you love the look of vintage charm, this will be for you! They come with different storage options. Some steamer trunks will stand up, whereas others will lie horizontal, similar to a suitcase. 
This is a great way to add eclectic elegance to your home. 
3. Portable Bar Trunk
As we touched on earlier, you can find portable options. These will typically be lighter in weight and have wheels attached to them. Traditional bar carts are mobile as well. This is great for moving between guests and preparing and serving drinks. 
Some portable bar trunks may even be light enough to take them to the next house party you attend! Since they can be modeled after old-school suitcases, you can use them as a traveling bar. 
4. Wine Rack Bar Trunk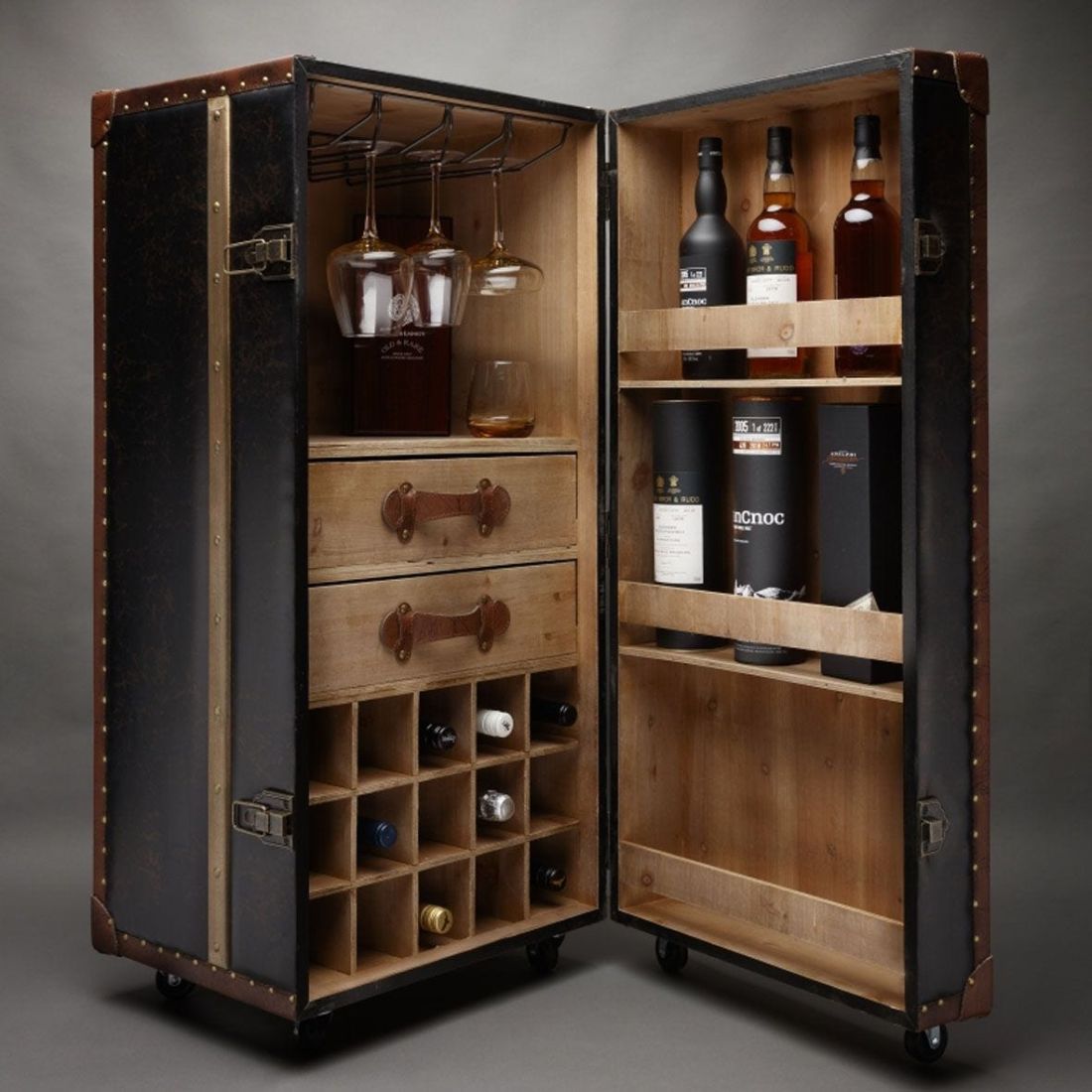 If you're a wine lover, you likely have several bottles of it. Wine bottles can take up a lot of space. Having a bar trunk that specifically has a wine rack will allow you to store your bottles in one convenient place. Finally, you won't have a bunch of wine bottles cluttering your pantry! 
Some bar trunks come with wine storage hidden within the trunk itself. However, others will allow the bottles to be on display. If you have an impressive wine collection (like from traveling) then you may want it to be more visible! 
5. Coffee Table Bar Trunk
Some people don't want their bar to be as noticeable as others. If you want a multi-use bar, then a coffee table style may be for you. This will look like a trunk but function as a bar and coffee table. This will allow you to access it easily. It will also work as a place for guests to set their drinks. 
This will be one of the coolest coffee tables you can find and will definitely make a statement in your home. 
6. Martini Cabinet
We've discussed a bar trunk for the wine lover, but what about the martini connoisseur? If you pride yourself on drinking a dirty martini, a martini cabinet may be for you! This type of bar trunk will give you space to store alcohol, shaker cups, ice, and specialty martini glasses. You'll look like a cocktail barista. 
7. Mini Bar Trunk
Consider a mini bar trunk if you have a smaller space. These are smaller than a traditional bar trunk. While you may not have as much storage, they are lighter and don't take up too much room. This would be perfect for a condo or apartment. 
8. Bar Trunk With Table
Do you want to add extra seating to your space? Some bar trunks come with a fold-down table! This will give you additional room to prepare cocktails, and you can impress your guests with a hidden space to sip on their favorite cocktails. 
Conclusion
A bar cart is an excellent addition to any home. These vintage-style pieces are a great way to strike conversation among guests and store your alcohol in a statement piece. A bar trunk is a unique style of bar cart that has recently hit the market. Whether you want a farmhouse-style, miniature trunk, or portable option, there is a piece on the market for you.